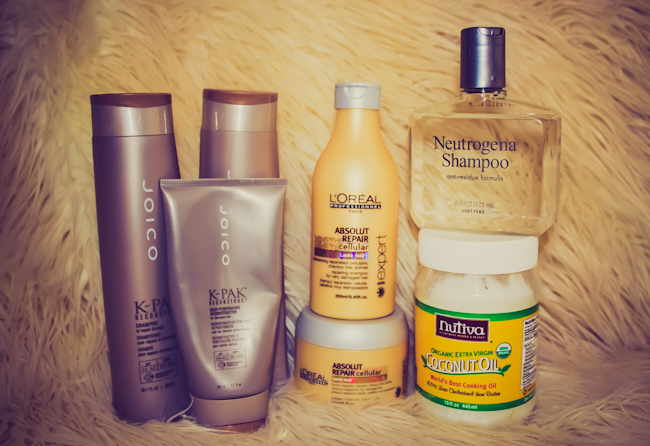 I used to treat my hair so horribly. I would highlight it, never trim it, use crap shampoos, and I never used a conditioning treatment. Well I still highlight it, but I've now learned how to properly maintain. First things first, I hardly wash it. Now I know most of you are thinking "how gross," but trust me it is the best thing for your hair. By not washing it you allow your mane's natural oils to do their job. That is especially important if you have dry, colored, and damaged hair like me. I only wash my hair 2-3 times a week. When I do wash my hair I like to rotate shampoos and conditioning treatments. Here are the three duos I use:
1. Reconstruct:
I am a huge fan of Joico products. Their K-Pak line is amazing for damaged hair. It really helps reconstruct and strengthen your mane. I use their shampoo and conditioner together weekly, and once a week I sleep with the the Reconstructor in my hair. In the morning I rinse it out, and my hair feels and looks amazing.
Joico K-PAK Reconstruct Shampoo
Joico K-PAK Reconstruct Conditioner
Joico K-PAK Reconstruct Deep Penetrating Reconstructor
2. Repair:
Loreal Professionnel is another amazing brand for worn hair. It helps fortify and restore hair that has lost structure and strength. I use this combination at least once a week. I shampoo, then I like to leave the masque in for a few hours or sleep with it in. Just like Joico, this leaves my hair looking gorgeous and smooth.
Loreal Professionnel Absolut Repair Cellular Shampoo
Loreal Professionnel Absolut Repair Cellular Masque
3. Cleanse:
Neutrogena's Anti-Residue Shampoo removes the dulling residue caused by shampoos, conditioners and styling products. It cleans your hair thoroughly. I use this once week. I tend to use this after I have done a coconut oil masque. I slather the coconut oil all over and massage into my scalp. I leave it on for a few hours or sometimes I sleep with it in. It takes a lot of work to rinse it all out and it can get messy. But it is totally worth it because it leaves my hair super soft and shiny, and it helps stimulate hair growth.
Neutrogena Anti-Residue Shampoo
Nutiva Organic Extra Virgin Coconut Oil