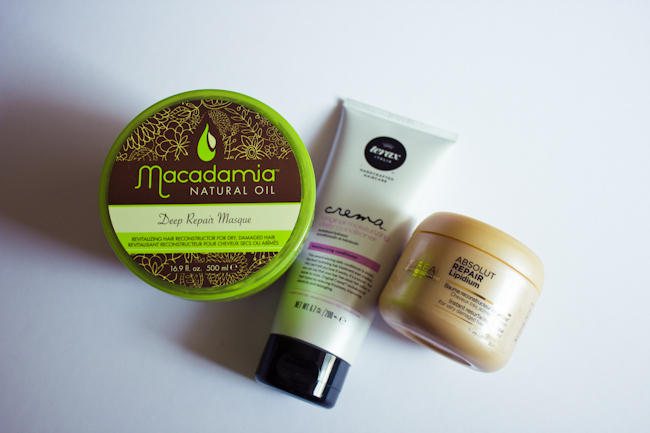 One of the most asked questions I receive is "what's the secret to your gorgeous healthy hair?" My answer is always use a deep conditioning masque treatment. And do this at least once a week. Doing this has changed me hair's life. Keeping my hair healthy as a blonde is a lot of work, and I used to get very lazy I'll admit. Since I began being diligent with my conditioning treatments, I have breathed new life into my hair. To reap the full benefits make sure you leave it in for at least a few hours, or better overnight. That way your hair will soak it all up and it will penetrate deeper. I have tried out many hair masques and conditioners over the years and can safely say I have found the cream of the crop. These are my three must have hair conditioning treatments.
Terax Crema Conditioner has been around for quite some time and has rightly so acquired icon status. I just recently discovered this cult favorite and I am officially hooked. This award winning daily conditioner is one of the best hydrating hair treatments I have found. I like to use this as an overnight deep conditioning treatment. In the morning my hair looks and feels so soft and silky. Since using I have seen a reduction in frizz and breakage. I get highlights every 6 weeks so this conditioner is the perfect weapon to combat my dryness and damage.
Macadamia Professional Deep Repair Masque is an amazing hair reconstructor that has been in my arsenal for quite some time now. I like to use this at least one a week. I have found the best results when I leave it in overnight. It is loaded with healthy, natural ingredients like macadamia oil, argan oil, tea tree oil, chamomile oil, and aloe. It gives my color treated hair much needed nourishment and works wonders on my split ends.
L'Oreal Professionnel Absolut Repair Lipidium Instant Reconstructing Masque is pricey but it is well worth it. It instantly conditions and leaves my hair feeling stronger and more supple. This masque also makes my hair shine like no other. I like to use this in conjunction with their shampoo Absolut Repair Lipidium Shampoo which is equally as amazing.