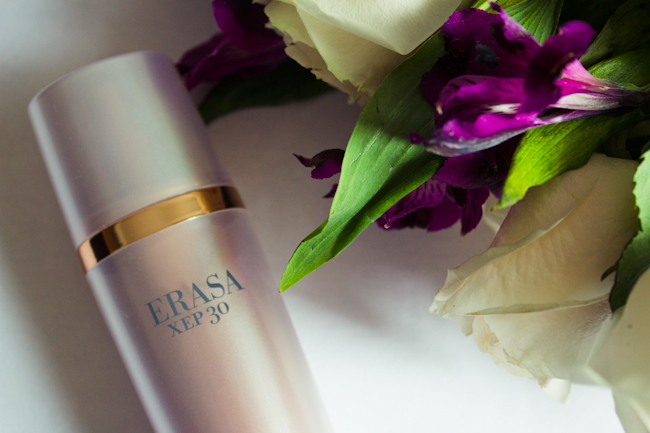 I was never a big believer in topical products to help erase wrinkles, until I stumbled upon an article touting the amazing results of Erasa XEP-30. Never one to shy away from trying something new to smooth out my skin, I jumped at the opportunity to be one of the first to try it out.
I've been using Erasa diligently day and night for about two months now and the results have been nothing short of spectacular. Erasa has been clinically proven to help erase all visible signs of aging that previously were only possible with injections. That includes frown lines, expression lines, and crow's feet. My trouble spots have always been my forehead expression and frown lines. The older I get, the deeper they grow.
I have always been one to try the latest and greatest in anti-aging skincare as I am not quite prepared to endure the pain of Botox just yet. Up until now I have never found a life-altering, holy grail wrinkle reducing product. That has since changed since discovering Erasa. I have seen a dramatic improvement with my forehead wrinkles. Now they haven't completely disappeared, but they have greatly decreased in size and depth. My frown line wrinkles are honestly almost non existent. Other benefits I have found is my skin is firmer and brighter, and my under eye dark circles are less noticeable.
Erasa XEP-30 is the brainchild of Jules Zecchino, the former chief scientist at Estée Lauder. I had a chance to chat with him to find out just how exactly Erasa magically erases wrinkles, and to see what the future holds for the up and coming brand.
What inspired you to create Erasa XEP-30?
About two years ago, I heard that Allergan, the makers of Botox, were looking at a topical version of their injectable product. I thought if they thought they could have topical effects that were significant why couldn't we do it. I started looking for materials that would have a similar effect. A few months later, I found Activen, a Swiss material company that was just formed by an old friend of mine. They were busy for the past two years looking at the drug discoveries of a Swiss Pharmaceutical company that only studies neuron-peptides for pain relief. They found a cone snail venom that contained a neuro-peptide that worked on inhibiting the neuron contractions controlling muscle actions. Activen, synthesized this peptide and started clinical trials. The result was a peptide they are marketing to the cosmetic industry as XEP-18. We evaluated this material early on and found it had some effects on expression lines but we felt we needed more. We started an exclusive program with Activen to develop the next generation peptide that would have greater activity, this is XEP-30. We also simultaneously developed a patent pending delivery system, all aimed at having the highest degree of activity. Subsequent clinical testing would prove that we achieved all our desires, while Allergan is still in development.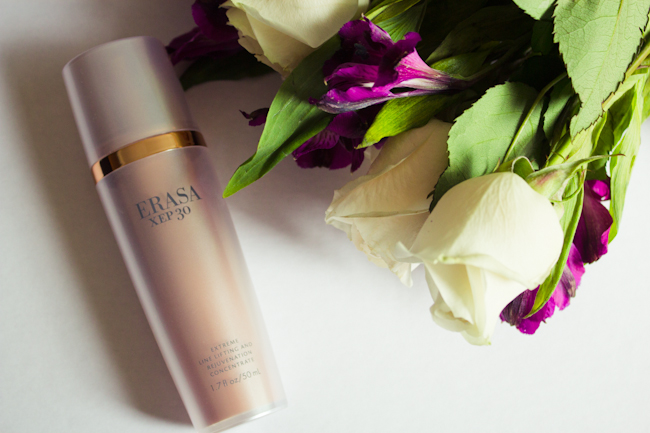 What makes Erasa XEP-30 unique?
We have exclusive rights to the patented XEP-30 material. It is the kicker ingredient that boosts line lifting to a new level, and makes all the other components of our formula work faster.
What are Erasa's main ingredients and how do they help with anti-aging?
Erasa exclusively contains the patented XEP-30 peptide. This will slightly relax expression lines everyday giving the facial muscles and lines a chance to heal. At the same time Erasa contains a special whey protein that pumps collagen synthesis, to plump up from the dermis. A special 97% active Gallabridin is included as the best age spot and even skin tone corrector. Creatine, Niacinamide, and glucosamine are in Erasa to give a firmer retexurized and renewed skin appearance. Magnolia, White Birch, and Boswellia extracts are strong anti-oxidants and anti-inflammatory agents. They help calm the skin so it may repair. For maximum effect, Erasa was been formulated with four neuro-peptides, XEP-30, Argirilene, Palmitoyl Hexapeptide-18, and Palmitoyl hexapeptide-52. Each one having their own action of helping to interfere with expression line formation.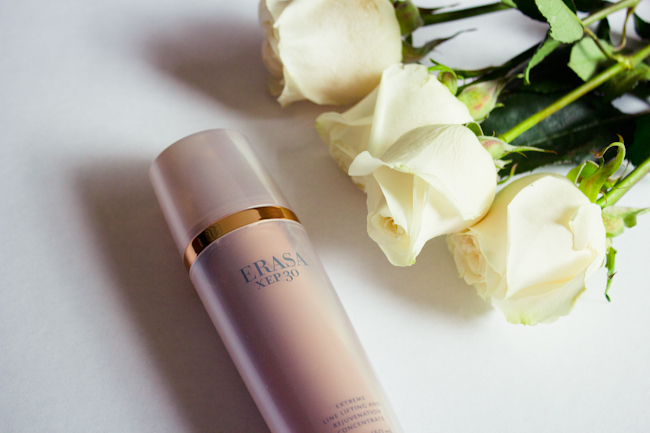 How does Erasa XEP-30 stand out from the competitors?
Speed and efficacy of Action. Within two weeks, our independent clinical test showed results not achieved by others even after two to six months. Erasa also has multiple benefits that surpass the efficacy of three products used separately.
How often should this be used?
For best result, use twice daily morning and evening. If only once a day evening is preferred, you will see results but it will take a little longer.
When will you start seeing results?
Immediately you will seem less lined, pores reduced and more even skin clarity. Skin will feel amazing smooth. Your make-up will wear like iron over Erasa.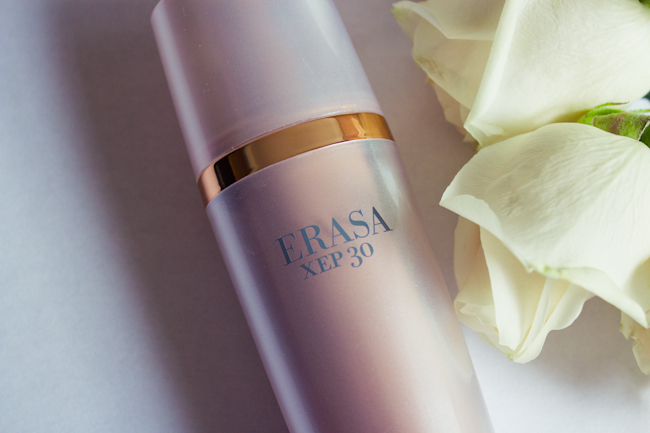 Who is Erasa XEP-30's target audience?
Any women wanting to look her best, and bring back the appearance of youth.  35 to 65 years of age were tested and achieved amazing results in our clinical tests.
Erasa is only available online. Why did you choose not to sell it in stores? 
We choose to get the product to market quickly and opted for www.erasakisncare.com to start and we will be selecting a retail partner when expanding the product line, and our other products come out later this year.