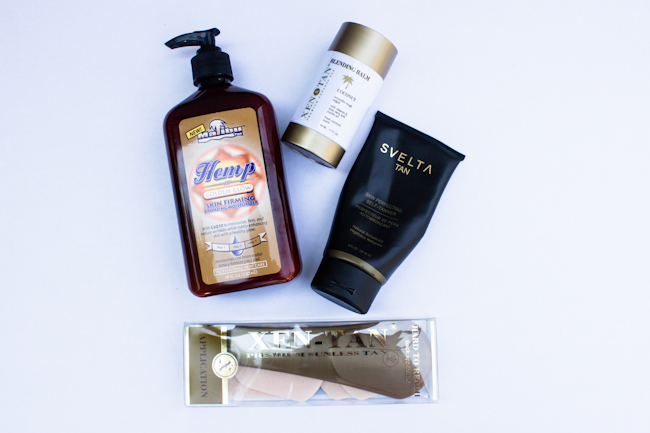 All my fellow pale girls will agree with me when I say it is just so hard to find good quality self tanners that are not too saturated with color for our skin tone or leave us a streaky mess. I have tried everything from the lower end drug store staple Jergens to the highly coveted and pricy St. Tropez. It took years of experimentation and some classic self tanner mishaps to find my holy grail products. Here's the four products I swear by to achieve a flawless, streak-free, and pale girl friendly faux tan.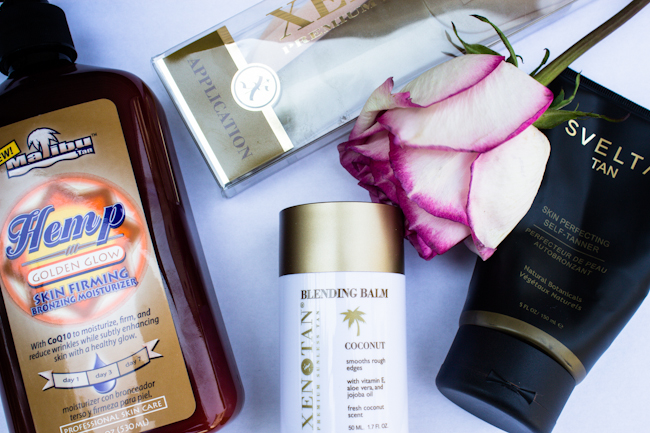 Malibu Tan Hemp Golden Glow Skin is every pale girl's dream. This moisturizer gradually builds a beautiful sun kissed glow in about a week. There's no sticky mess, streaks, or orange splotches. It leaves my skin with a natural, soft tan that isn't too overwhelming for my fair complexion. And the best part – it's only $6 for a huge 18 fl oz container! You can only find it at Walmart, so I make the trip every few months to stock up. I like to use this every other night. I exfoliate and shower, then apply and leave on overnight. The next morning I like to shower is off and apply my regular moisturizer. Using this every other day leaves me with a nice golden glow all year long.
Svelta Tan is a recent addition to my arsenal. On the nights when I'm not using Malibu Tan or when I want a quick fix I use this. Svelta delivers a darker but still very natural and streak free color for me. Their formula uses an eco-certified DHA and is free of parabens, phthalates, sulfates, and mineral oil. It's also packed with some great natural ingredients and skin perfecting botanicals like guarana, sacred lotus, aloe, and olive leaf. I apply at night after exfoliating with the mitt they provide. The bronzing guide color helps spread the product evenly and smoothly. I sleep overnight with it on and shower it off the next morning. My skin is beautifully bronzed with a color that's not overwhelming or fake looking.
XEN-TAN Blending Balm is my secret weapon to avoiding those typical trouble spot blending disasters. Blending Balm is a moisturizing stick made with jojoba and safflower oils. It has a lovely fresh coconut scent. After applying my self tanner, I use it on those tricky spots like the soles of my feet, toes, wrists, and elbows. It's all about careful blending to achieve a flawless and streak free tan.
XEN-TAN Hard To Reach is how I'm able to smoothly apply self tanner to my back. No more bending around in awkward positions for me. I know you all have been there. All you do is simply place the self tanner directly onto the foam back applicator and then apply to your hard to reach areas. The foam pads are replaceable and can last a couple years with proper care and cleaning. This is a must have for any regular self tanner.