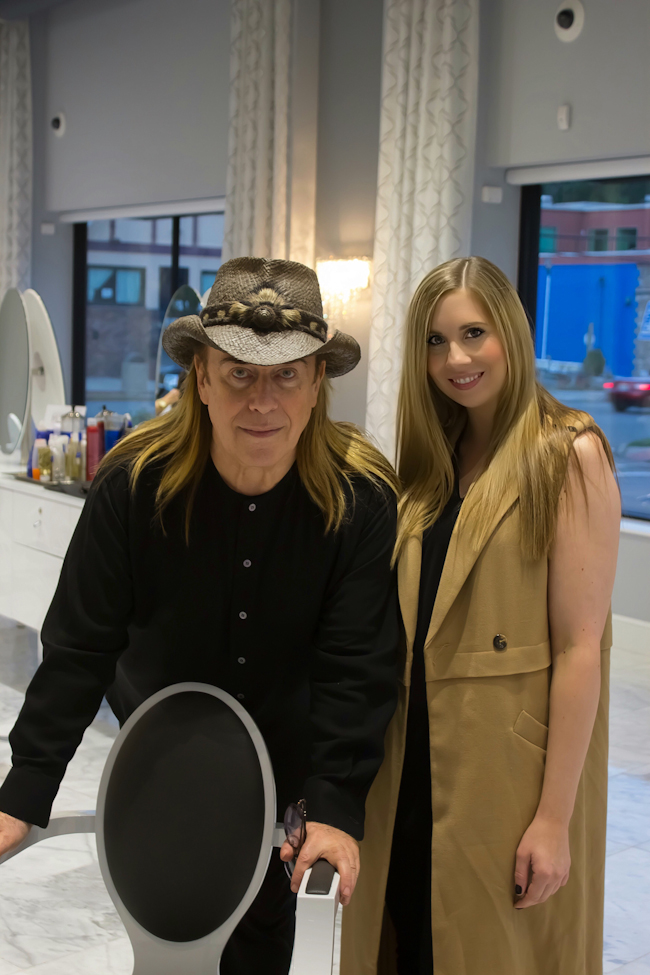 I recently had the honor of having a consultation with hair legend Jose Eber at his newest salon in Millburn, NJ. Jose and the entire staff couldn't have been more fabulous and gracious. The second you walk in the doors you feel like you are right at home. Everyone has a warm smile on their face and are willing to go above and beyond to make you comfortable and relaxed. The salon's chic decor is outstanding. It's very spacious but also very warm and cozy at the same time.
Jose flies in to do consultations every few months so I was so excited to get an appointment with him as they tend to book up extremely fast. A consultation with Jose is 15 minutes. It may not sound like a lot of time, but that's all he needs as he has an amazing eye to tell right away what your hair needs.
Jose greeted me with a huge smile and remembered me from our interview (check it out below) a few months back at their grand opening party. He then sat me down and did a look through at my hair. I admit I was a bit nervous. I am not one for change and I was expecting to hear the worst from him saying it needed to be chopped off or to get rid of my signature blonde. Instead he said with a huge smile that he absolutely loved my look and he would not want to change much. He only recommended that I take 2-3 inches off to clean it up and make it healthier. I was pleasantly relieved to hear that he loved the style and the color. Jose told me his motto is to make the client happy no matter what. He would never ever make a drastic change unless the client absolutely wants it. I loved his no nonsense attitude and he tells it to you straight. Jose is a total sweetheart and makes you feel completely welcome in his salon. He also gave me some great tips to keep my blonde hair healthy. He advises to never color the whole head, but rather only the roots. He also recommends a deep conditioning mask at least once a week, and limit shampooing to one to two times a week.
Once Jose gave me his prognosis he sent me over to his Master Designer John Parisio for the big cut. John was the upmost professional and made me feel at ease taking off a few inches. I get very nervous even taking the littlest amount off my hair, and with John I felt completely comfortable and I totally trusted him. John gave me my first dry cut and I was very impressed with the amount of detail he put into the cut, he was quite the perfectionist. You can see the results of the cut below. Without a huge change my hair had new life. It looks and feels the healthiest its been a long time. I cannot thank Jose and John enough for the amazing cut and experience.
After that I moved on to a relaxing manicure and pedicure with the wonderful Michelle Araujo and Lilya Abayeva. Both ladies have over 20 years of experience and were so much fun. They gave my brittle, weak nails new life again and at the same time gave me some much needed nail education. Manager Angela Hadjiapostoli was wonderful and constantly checked up to make sure everything was up to par.
Jose Eber is one of the most welcoming, professional, and inviting salons I have been to. From the moment you walk in to the moment you leave everyone has a smile on their face. It is definitely infectious because I guarantee you will leave with a big one on your face too.