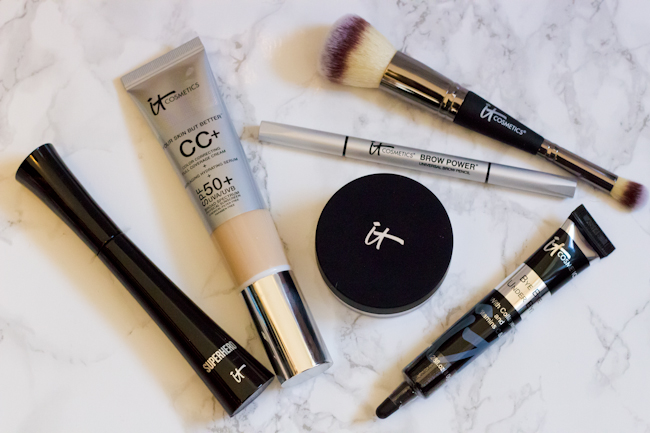 IT Cosmetics is a makeup line I have often glanced right over. With the market saturated with so many flashy and gimmicky brands, it can be quite easy to forget about simple, high quality lines that don't need to rely on advertising because they already have a loyal following. IT Cosmetics is one of those brands. They use cutting edge, innovative technology developed by renowned plastic surgeons and dermatologists to help solve common skin concerns. Their motto is very simple and relate-able; they are all about helping real women get real results. And they don't need to flaunt this because their faithful fan base successfully spreads the word. I can now count myself as one of those ladies and I'm doing my part to share the love. Here's six of their products that have earned permanent spots in my makeup bag.
Heavenly Luxe Complexion Perfection Brush – It's hard to find a good quality brush that won't break that bank. That's why I love this ultra plush, super soft foundation brush. It is high quality AND affordable. The large end allows me to quickly blend my foundation across my face and the smaller end helps me with those tiny spaces. This brush always gives my skin a beautiful airbrushed finish.
Your Skin But Better CC Cream – This CC cream is my go to when I don't feel like doing a full face of makeup. It still gives me full coverage but it is super lightweight and is so easy to blend with my fingers. It's perfect for those mornings when you're in a rush or just not in the mood for foundation. A nice added bonus is that it contains anti-aging serum AND SPF 50+.
Bye Bye Under Eye Anti-Aging Concealer – This concealer rightfully deserves its title of "8 hours of sleep in a tube." It literally covers everything from dark circles to wrinkles with no creasing and cracking. It lasts almost all day without fading and makes me look fully awake even when I'm operating on no sleep (which unfortunately happens way too often).
Bye Bye Pores Silk HD Anti-Aging Micro-Powder – This pore vanishing powder belongs in the big leagues. I'd say it ranks right up there with the HG powders by Bill Nye and Make Up For Ever. It does just what it says, makes your pores disappear, while leaving your skin smooth and shine free. I do a lot of television work and this powder passes the HD camera test.
Brow Power – This baby is not your average brow pencil. It's a unique 5-in-1 gel that fills, conditions, brushes, tames, and can even cover greys. I love that it is waterprooof and it truly is long lasting. No smudging, running, or smearing, and I never need to touch up.
Superhero Elastic Stretch Volumizing Mascara – This is an excellent mascara. Just one coat gives your lashes considerable length and fullness. It is completely buildable so the more coats the bigger and longer your lashes get, and it does this without clumping.