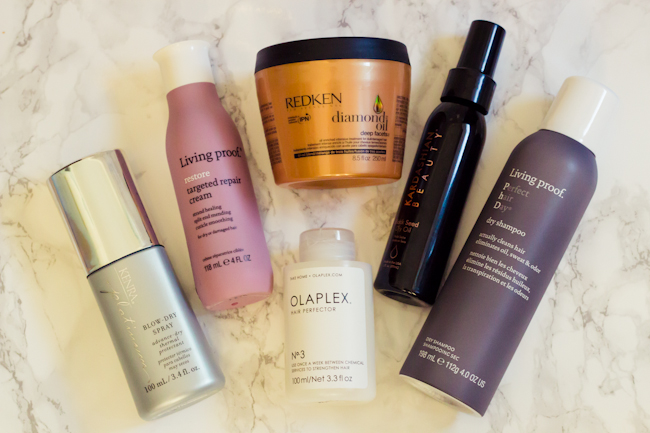 If only I had a dollar for every time someone asked me about my hair routine. This is by far the most asked question I receive from my readers to strangers on the street. To be quite honest it is a lot of work to upkeep my hair and it involves lots of supplements, masques, and heat protection. My mane routine is ever evolving as I'm always trying new products in hopes of finding the next best thing. These six products are all recent additions to my arsenal and have officially earned my stamp of approval.
Kenra Platinum Blow-Dry Spray – Nothing has ever helped my hair dry quicker than this. You simply spray it on before blow drying and it truly helps speed up the drying process. It has helped cut my drying time in half!
Living Proof Restore Targeted Repair Cream – As a blonde I'm always concerned about split ends. This product has helped ease my concerns. I put this on my towel dried ends before blow drying (and after my Kenra Platinum Blow-Dry Spray). I can immediately see a difference on my ends; they are smoother, stronger, and more intact.
Redken Diamond Oil Deep Facets – This is a solid deep conditioning masque. My best friend who does my hair swears by Redken products and got me hooked. I like to change up my hair masques every week because it is better for the mane, and this one is now in my permanent collection. It leaves my hair smoother and softer while still adding strength.
Olaplex Hair Perfector No 3 – It was just a given that I had to try this after I read that Kim K. swears by it. I have never tried the other steps but I can attest to the praise Number 3 receives (and rightfully so). I use after highlights and about every other week in between sessions. It has cut my breakage down and has given my hair new life. If you are hard on your hair like me, this is a must have to fix the damage you have done.
Kardashian Beauty Black Seed Dry Oil – Those Kardashian girls sure do know a thing or two about hair. I was a little skeptical about this oil but it gets rave reviews online and I found it at Macy's Backstage on clearance so I figured why not give it whirl. I'm sure glad I did. I adore the scent (some don't but I love it). It immediately sinks into your stands and gives moisture, shine, and life to dull hair.
Living Proof Perfect Hair Day Dry Shampoo – I've been around the dry shampoo block and then some. I've tried everything from the cheap drug store HG's to the high end Net-A-Porter picks, but Living Proof's version is by far my favorite. It's the only dry shampoo that has truly cleaned my hair. As a blonde I don't like to wash my hair often, maybe twice a week if that, so this is the perfect product to freshen up my roots and absorb any oil build up.